As someone who has been living abroad for the past six years, American politics haven't really been at the forefront of my concerns for a long while. However, this year, it was practically impossible to ignore what was going on throughout this year's presidential elections. It gave me a chance to think about how we are the generation that can make a difference – a lot of us, including myself, voted for the very first time this year. We have a voice – and this year's presidential elections proved that we needed and would be heard!
Four years ago, in 2008, I was a sophomore in high school, taking AP U.S. History in South Korea. I remember talking about the elections with my teacher, trying to grasp my head around the concept of the electoral college and the popular vote. Although it was something that made headlines, and was constantly being monitored by the media, it still felt foreign – like I was watching a movie. I didn't understand how big of an impact the elections would have (probably due to the fact that I was living overseas, and I was a sophomore in high school who's biggest concern at the time was whether or not I would get my homework done that night). It was my first genuine encounter with the American election process – learning how it worked, and how it would effect the country.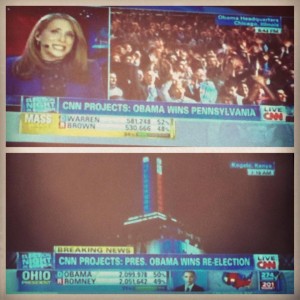 Now, four years later, I am a sophomore in college, and old enough to vote. Personally, I felt more and more nervous as it got closer to Election Day. I tried to educate myself to the best of my abilities, about both candidates and their stance on certain policies that pertained to younger people like myself. It felt surreal while I registered to vote – Am I really old enough to vote?! It was just one of those things that made me realize that I had a voice – and it would be heard. It was a far cry from how I felt four years ago in Seoul, where I was only studying about these things through a textbook.
I don't know about other colleges, but I really appreciated how supportive Bryn Mawr was about having people get out to register and vote. The election viewing at Thomas Great Hall was quite an experience in itself. The Student Activities group provided Election Day trinkets, and the excited of the room could be felt all around. Regardless of who you wanted as our president, the experience of watching the elections as a group is something that can't be forgotten anytime soon. The cries of excitement and/or disappointment whenever another projection was made was almost just as exciting as when the actual results came out. The raffles were also a nice touch (who doesn't want to win free swag?!). With this being the only time i'll be able to vote in college, I'm glad that it was at Bryn Mawr, where so many people are committed to being informed and educated about the happenings of our country's politics.
If you missed out on Mitt Romney's concession speech, or President Obama's speech, You can get the transcripts of them here and here!
Until Next Time!