So, as most of us are thinking about classes for the Spring Semester, I can honestly say that I will miss all of the classes that I decided to take during the fall. Most of all, I'll miss taking Forensic Anthropology. Although i'm a newbie to the area of study, I've always been curious as to what goes on behind the scenes, and not just what we see on popular TV shows, such as CSI or "Bones".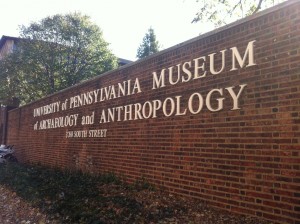 Last Friday was one of the best classes i've ever had since starting college here at Bryn Mawr. For an assignment about identification, our class was allowed to visit the University of Pennsylvania's Museum of Archaeology and Anthropology…in order to examine real, human bones! Sure, it's one thing to be able to study with plaster bones or casts – but to touch the bones of someone who was once living…it gives me chills just thinking about it! We were split into groups of four, and using various measuring tools, we began to examine and try to determine what exactly happened to our unlucky friend.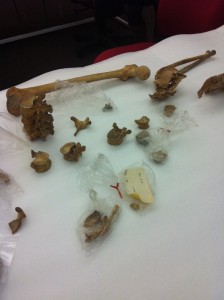 The lab at UPenn was amazing. Although the skeleton was incomplete, it still told parts of a story that allowed us to understand what exactly happened to the skeleton of the man we were given. It was interesting to see what bones looked like after a significant amount of time (this skeleton was well over 2000 years old!), as well as look for certain unique markings. This guy had several interesting marks, including a broken nose (probably from being punched, or hit with by a heavy object), as well as several rotten teeth. The back of his skull was also cracked, which we determined was the cause of death (poor guy). It was obvious that he lived a hard life – it was amazing just to ponder about how his remains ended up here at Penn.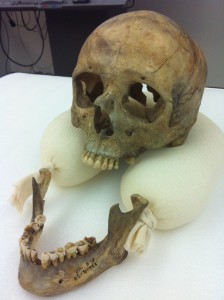 It's classes like this one that make me so excited to learn. I'm a very visual and kinesthetic learner; Therefore seeing and touching help me absorb information better compared to when I simply listen to a lecture. It also shows just how great it is to have schools such as Penn so close by – with whom we have a Quaker Consortium with, that allows Bryn Mawr students, such as myself, to use the resources that I otherwise might not have. Haverford and Swarthmore are great too, in that we can borrow books/resources from any three of the libraries with such ease. With Pre-registration coming up – keep in mind that taking classes at Penn, Swarthmore and Haverford will not only give you a different academic experience, but also give you a chance to truly create a schedule with classes that you genuinely want!
Until Next Time!