There is one thing that I really love about Philadelphia is all of the history – It may not be as abundant as other places, such as Washington D.C. but it still holds importance in United States history. This past week, my friend from Georgetown visited Philadelphia. Being a history buff herself, she really wanted to visit the Liberty Bell and Independence Hall. Although I have been there numerous times, I love going back there time and time again.
It's interesting to learn about these historical monuments – I mean, it's amazing think that history was made in these very places that we are able to tour around today. I really want to keep taking advantage of these historical landmarks around Philly, as well as visit the museums that are available to us as well. As a newly declared History major, I know that there are so many resources and opportunities around the city! Seeing the constitution up close, as well as the liberty bell helped remind me that there are so many things to do in Philadelphia – all I have to do is hop on a train (for free thanks to Bryn Mawr student activities!) and go, go, go! I'm going to be writing a post soon about Reading Terminal Market – another place we visited with my friend – and also my absolute favorite place in Philadelphia!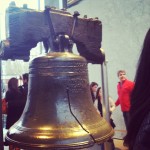 For those of you who haven't been to Independence Hall or the LIberty Hall exhibition, it's at 598 Chestnut Street. There is no entrance fee for the LIberty Hall exhibition, and you can enter certain parts of Independence Hall for free as well. If you want more information, click here for the liberty bell, and here for independence hall!