Over this past weekend, I reached yet another marker in life – my 22nd birthday! I didn't realize it at first, but this birthday also would be the last one i'd have while here at Bryn Mawr. It brought about all sorts of emotions, but the weekend reminded me of just how much i've grown while here at BMC, as well as a great reminder of just how many great people i've met while here as well.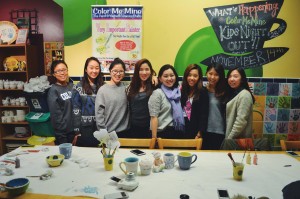 I got to spend my Saturday with some friends at Color Me Mine – a great arts and crafts venue in Wayne. So the simple explanation of the place is that you choose a clay structure, and get to glaze it. They'll burn it in their kiln and call you to pick up your masterpiece later. I appropriately chose a cupcake – with "feeling twenty2" written on the side. It was a great relaxing "getaway" of sorts – We all got to catch up, laugh and de-stress. We went to a great restaurant on the Mainline, Susanna Foo Gourmet Kitchen for dinner afterwards, which was absolutely delicious. We "family-styled" the dinner, and got a bunch of great Chinese dishes, and celebrated my birthday. It was great because I purposely tried to make sure I invited my friends who are younger, because it sort of felt like the last time we'd all be in the same place after this year. I've realized it's been a real stroke of luck having friends from difference classes – they're all on the same journey but just in different parts of it. It was a perfect way to celebrate with everyone!
Sunday was a reunion of sorts in that I got to celebrate with friends I had made waaaaaaay back during first year. We were all in the same customs group, and experienced the ups and downs of freshman year together, as a group of Radnor froshlings. We all got together and cooked up a storm (just kidding, but we did cook an impressive meal!) in honor of "friendsgiving" and my 22nd. It was so great to come together as a group after almost 4 years… It's been hard to get all of us together just because we're pursuing our own paths and are making moves in the world (whoot!). But no matter how long it's been, I feel like we'll always be able to sit down together and talk and enjoy each other's company.
I always tell people that I absolutely hate birthdays – just because I have a serious issue with getting older and what not (I just want to be a kid forever….). But I've realized that as i've gotten older here at Bryn Mawr, i've also gained more than just a few notches on the age meter. I've gained a great education, a group of friend I wouldn't trade for the world, and a countless stream of memories (to be continued!) that i'll look back at and smile about for years to come. 21, you're going to be a hard act to follow – but 22, you're off to a great start!
Until Next Time!