This past weekend, I had the chance to finally visit Barbacoa, a Peruvian barbecue restaurant in the neighboring town of Ardmore. I had always wanted to stop by the place ,but never had the time or the group of people to go (their portions are absolutely monstrous, make sure you bring stretchy pants!) With my sister visiting from Los Angeles, I got together a group of friends from Bryn Mawr and Villanova, and we set off to take on our dinner at Barbacoa.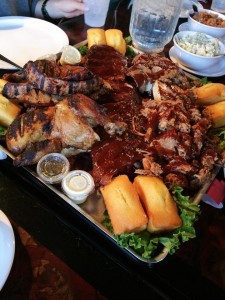 Located on Rittenhouse Place in Ardmore (5 minutes from the train station), the restaurant itself might be missed if not looked for carefully. The inside seats maybe 30 people at most, and reservations were only taken on the phone. We were quickly seated and scoped out the menu – we went straight for the "Mom's night off" combination platters, which consisted of a variety of meats, side dishes and slaw. With 6 people, we decided to try "The Ardmore" – the largest combo platter on the menu. The meal consisted of an entire chicken, 1/2 pound of pork, 1/2 pound of sausage and 1/2 pound of brisket, 3/4 racked ribs, 8 pieces of cornbread with 2 pounds of slaw, sweet potato fries and sides of baked beans and macaroni and cheese. When the waitress came out with the entire meal, all of our jaws dropped simultaneously, as we watched her set down this plate of meat, carbs and protein.
In the end, we managed to eat almost the entire platter, leaving half the chicken and one piece of cornbread. With six people, the portion was a bit much (4 girls and 2 guys), but I would definitely recommend Barbacoa to anyone for occasions ranging from birthday dinners to casual saturday get togethers. The meat was very well cooked, and my favorite portion was the pulled pork (lathered up in the restaurant's own barbecue sauce concoction). Recommendations for side dishes would be the macaroni and cheese, and the baked beans for those who are looking for an overdose of protein.I know that I will most definitely visit Barbacoa again before graduation comes around – I really want to try the other platters and the sandwiches – and I'm glad that there's a gem like this right around the corner in Ardmore. Peruvian barbecue is hard to come by, and I have to say, Barbacoa doesn't disappoint!
Until Next Time!