Last week, my younger sister visited me all the way from Los Angeles, CA! As a high school senior, she is currently going through the exciting process of deciding where she'll end up next year as a college freshman… and one of the places she is considering is Bryn Mawr!
My sister always used to tell me that she wouldn't want to go to the same college as me, for several reasons. She wanted a fresh start, she didn't want people comparing her to me in any sort of way and she just didn't know if Bryn Mawr would be a good match for her, since we're so different. I was excited but anxious for her to visit because of all of these reasons… but also because it'd be the first time she'd have a peek into my life as a Bryn Mawr student.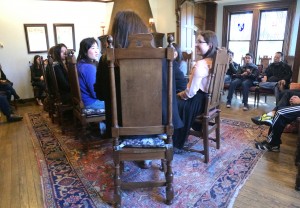 I picked her up from Newark (yikes) and brought her back to Bryn Mawr, where I took her around the neighborhood, went shopping at the King of Prussia Mall and went into the city and hauled her around to my Penn classes. She stayed with me in my room and she got a little taste of what life could be like for her if she were to choose to experience college here. She met my friends and got to eat in both Erdman and Haffner and she got to experience the official admissions information session as well as the campus tour on the Monday of her visit.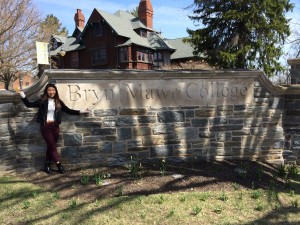 To my surprise, she loved Bryn Mawr! It just goes to show that this school is a great place for people from all different sorts of backgrounds all with a variety of personalities. What she loved the most was the look of the campus (she kept saying she couldn't believe how pretty it was), the layout of the dorms and rooms and the surrounding area of the school (the Mainline). Although she's not sure yet, she said that the trip made her decision that much harder, because Bryn Mawr surprised her in many ways and she thought she wasn't going to end up liking it as much as she did. As her older sister, i'm glad she got to visit before make her decision – I was in Korea for high school and didn't get to visit before committing. I would advise anyone who is in the same spot as my sister – take the time to visit the schools before committing! It might be a little pricey and time-consuming, but being sure about your decision will make the next four years that much sweeter.
Until Next Time!